One of our former paramedics, Brian James Bordelon, died August 11th of cancer. Many of us at EMS remember Brian well. He was an outstanding paramedic, one from "the old days." He took no shit from anyone, and was perfectly happy to dish it out too. We are proud to have known him and serve the city with him.
We remember all the good times we had with him - going for a beer, enjoying his beloved Jazz Fest together, trying to imagine what it was like living with Placide Jumonville and Thomas Jordan. He entertained us all with his stories and writings. He gave us countless hours of amusement as he terrorized new EMT's (those EMT's might not remember him so fondly!).
We will certainly miss Brian. Fond memories or not, he is not one to be forgotten!
Here's
his obituary
.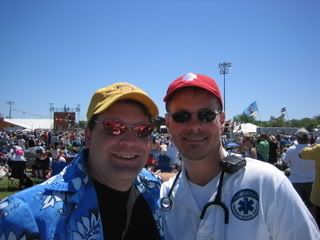 Brian (on left) & me at Jazz Fest.
Farewell, Brian!